---
The New York Times drew flak over a crossword puzzle that resembled a Nazi swastika it published on the first day of the Jewish holiday Hanukkah.
The crossword puzzle was drafted by Washington, D.C.-based data analytics consulting manager Ryan McCarty. A long-time puzzle designer whose earlier works were published in the Gray Lady's Saturday edition, the swastika puzzle was his first foray into a design for the Sunday edition.
"I had originally tried to make it work in a 15×15 grid, but then decided to expand the grid out to a Sunday-size puzzle with a fun whirlpool shape," McCarty said about his first Sunday crossword puzzle.
However, many did not see this "fun whirlpool shape" he spoke of.
"Disgusting," tweeted Donald Trump Jr., son of former President Donald Trump. "Only the Times would get Hanukkah going with this crossword puzzle."
"Imagine what they would do to someone who did this and was not ideologically aligned with them. I'll give them the same benefit of the doubt they would give these people – exactly zero."
Keith Edwards, communications director for several Democratic candidates, tweeted his outrage: "This is the [Times'] crossword puzzle … on the first day of Hanukka. What the hell?"
Philanthropist Adam Milstein was also unable to hide his disgust. He tweeted: "What were they thinking?! The New York Times creates a crossword puzzle whose silhouette bears an uncanny resemblance to a Nazi swastika."
According to the New York Post, this was not the first time the Gray Lady published a crossword puzzle that had the likeness of the Nazi swastika. It had previously done so in 2014 and 2017, with the Times taking to Twitter to clarify the 2017 edition of the puzzle.
"It's not a swastika, honest to God," it explained. "No one sits down to make a crossword puzzle and says, 'Hey, you know what would look cool?'"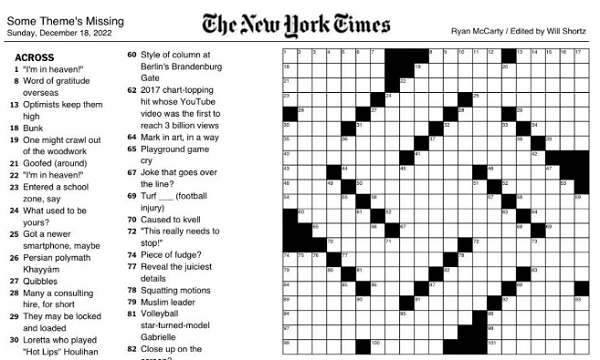 Swastika-designed crossword puzzle intentional?
Some, however, found the timing of the crossword puzzle intentional. According to Israel National News, the swastika-shaped puzzle was ran a day after the Times' editorial board published an op-ed attacking Israel and its Prime Minister-elect Benjamin Netanyahu.
According to the op-ed, "Netanyahu's government … is a significant threat to the future of Israel – its direction, its security and even the idea of a Jewish homeland." (Related: Racist New York Times was a holocaust denier, covered up mass genocide of Jews.)
The outlet also ran a poll asking readers if the crossword puzzle's design was "intentional Nazi imagery or an unfortunate coincidence." Of the 576 people who voted, 82.6 percent said it was deliberate while only 17.4 percent believed otherwise.
Outside of its publishing of Nazi imagery, the mainstream media outlet has also received criticisms for its espousal of the 1619 Project. Penned by Times contributor Nikole Hannah-Jones, the project seeks to "re-frame the country's history by placing the consequences of slavery … at the very center of [the] national narrative."
"Despite its lack of historical accuracy, the doctrine has been introduced academically and professionally across America," Maria Buenano wrote for online forum Liberty Scholar. "Thousands of copies of 1619 Project curriculum have been taught in schools across the nation, leaving countless American children with the notion that their country is racist.
Buenano also cited a Wall Street Journal writer, who pointed out that the doctrine pushed by the 1619 Project "has grown increasingly hostile to patriotism and parental authority." The author added: "Its greatest enemies are true diversity, tolerance and the nuclear family structure."
"The 1619 Project curriculum is not an educational enterprise; it is a tool of political indoctrination," concluded Buenano. "No school system should endorse it. No teacher should use it. No student should be misled by it, nor punished for rejecting its fatally flawed premise."
Head over to NYTWatch.com for more stories about the New York Times.
Watch Paul Joseph Watson discuss a writer for the Times wanting to ban internet memes below.
This video is from the InfoWars channel on Brighteon.com.
More related stories:
The New York Times officially becomes a joke newspaper.
Leftist mob bullies New York Times into limiting "offensive" op-eds.
The New York Times should change its own name before calling others racist.
New York Times knew its reporting on Russiagate was fake news but published the lies anyway.
New York Times admits to spreading fake news with Caliphate podcasts that turned out to be fiction.
Sources include:
Submit a correction >>